Compare Web Hosting Plans
Get started today – choose the hosting plan for you!
UNLIMITED WEB HOSTING
Unlimited Websites & Emails
Host Unlimited Websites with cPanel

Unlimited MySQL Databases

Standard Server Resources
PREMIUM WEB HOSTING
Large Websites
Host Unlimited Websites with cPanel

Unlimited MySQL Databases
Register your domain name

Unlimited Web Hosting Features
Great features included as standard with our Unlimited cPanel hosting plans.

Host Unlimited Domains
One account, unlimited websites & domains. Host additional addon domains, aliases, and email accounts under one user.

cPanel Control Panel
Our unlimited hosting packages feature cPanel; the industry-leading control panel of choice – included completely free of charge.

Super-Fast SSD & LSAPI
Supercharged 100% SSD storage; fully optimised platform with LiteSpeedAPI & PHP OPCache for faster website speeds.

Free LetsEncrypt SSL Certificates
Secure your websites with free and unlimited SSL certificates provided by LetsEncrypt; managed easily using cPanel.

Free Website Builder
Get online in minutes with our drag and drop website builder. Over 200+ ready-made templates to suit different sectors.

Daily Backups with JetBackup
FREE backups & restores – restore your data from one of our daily retention points with JetBackup; includes files, email and databases.

Spam Protection
Market leading Spam Protection by default; powerful algorithms filter junk & malicious emails to keep you protected.

Fast South African Support
Our South African based expert support team are highly trained to provide fast and efficient assistance with your support inquiries.

99.9% Network Uptime
Load balancing, redundant clusters and high-speed networking ensure our outstanding 99.9% network uptime.

Free Website Migrations
We take the pain out of moving by providing complimentary website migrations by our support team.

No Gurus Needed
We believe web hosting should be easy and affordable for websites of all sizes!

WordPress Optimised
Easily deploy WordPress with a single click, setup staging, on our optimized platform!
Questions? Comments? Concerns?
Get in touch with us, and we'll get back to you ASAP.
cPanel provides you with a wide range of hosting features and a high level of control to keep your online properties running smoothly. cPanel's intuitive user interface and flexible functionality is suitable for both first-time and experienced users.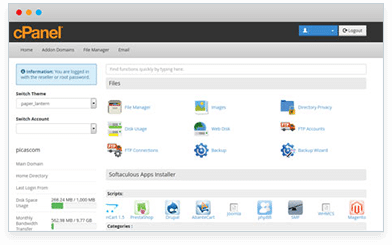 File Manager
Use the File Manager interface to maintain your website files and folders; upload, create, & edit within your control panel.

Email Management
Create & modify professional looking email accounts, auto-responders, aliases and forwarders based on your domain.

Domains & DNS
Easily deploy WordPress with a single click, setup staging, on our optimized platform!

Application Installer
Install applications like WordPress from within your control panel; there are over 200+ web applications to choose from.
Stats & Logs
Track your website performance, visitor statistics and fix errors using built-in statistics and error logging.

Domains & DNS
Set up MySQL databases, users (and permissions) for your applications; manage your database with PHPMyAdmin.
Responsive Website Builder
Build your website in minutes; no technical knowledge required!

Step 1: Choose a template
Select a free responsive website template from our library of over 200 templates — crossing 25 different business sectors.

Step 2: Customise your design
Complete customisation of your website using the easy-to-use design interface. Add text, images, widgets, forms & more!

Step 3: Publish your website
Once you are satisfied with your changes, simply hit 'Publish' to make your website live & accessible on the world wide web!
WordPress, Joomla, Magento, OpenCart, Drupal & many more…
Take your website to the next level with fantastic software and applications available on our fully optimised hosting platform. Whether you want to set up a blog, an e-commerce website or require a content management system; you can do so with no technical or coding knowledge, using the one-click installer.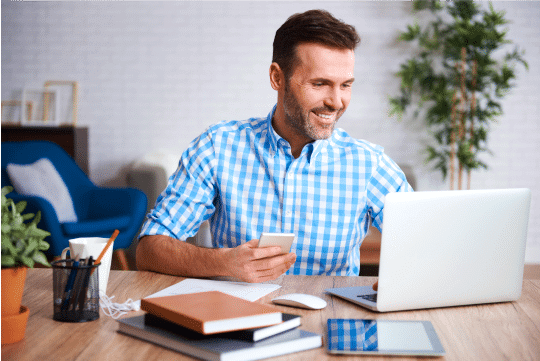 Why Choose Unlimited Web Hosting?
As your business grows, your requirements may change for your site.
Our Unlimited Web Hosting packages with 100% enterprise-grade SSD are the ideal scalable solution, from the start-up of your web site to your business hitting the big time! SSD allows for a faster read/write I/O which is perfect for database driven applications and static pages alike.
Our low-cost packages include unlimited MySQL databases, unlimited web space and bandwidth with the option to host an unlimited number of domain names. Our packages are optimised for WordPress, Joomla and Magento and over 200 other applications.
Our high-end cloud based platform with SSD runs on cutting edge hardware, that is meticulously maintained by our team of expert support engineers, ensuring that your site delivers the best performance possible at a very affordable price.
And don't forget, that South African-based technical expertise is on hand to help and advise you should you run into any difficulties with your service, or be considering upgrading in the future.
If you'd like to discuss your hosting requirements, then please get in touch and we'll be happy to help.
A web hosting service allows you to store your website files or applications on a server so that your website can be viewed online. 
What type of sites are suitable for the Web Hosting package?
Our entry-level hosting package is ideal for blogs, shopping carts and other web applications, as well as a natural and cost-effective route for taking your first steps toward creating a web presence. We also have a Premium Hosting option for more demanding websites & applications.
Does the hosting plan include an SSL Certificate?
All of our web hosting packages include Unlimited Free SSL Certificates for every domain which resolves to your account. We have two different SSL providers available in cPanel, LetsEncrypt and Sectigo (AutoSSL).